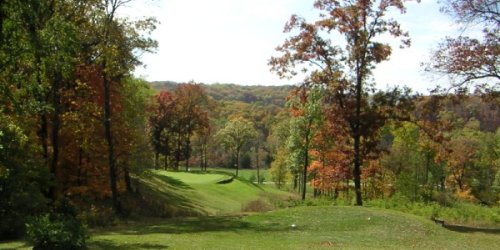 Very few places on the planet offer the variety, proximity and affordability that are so abundantly on display along the Midwest Golf Trail. Within a one-hour drive of the home facility, Great River Road Golf Club in Nauvoo, Illinois, golfers can have access to 42 member courses.

Unbelievably, 432 public golf holes and 108 private country club holes can be played by golfers who take advantage of the Midwest Golf Trail's stay-and-play packages. As fantastic as having access to private country clubs is, however, the Midwest Golf Trail prides itself on also being affordable, serving up rounds of golf, including cart, for greens fees in the neighborhood of $30. And sometimes in the $25 neighborhood.


Midwest Golf Trail Golf Courses
Golf Course Name
Type
Architect
American Legion Golf Course
Hannibal, MO
573-221-5831
Public
Bow Lake Golf Course
Barry, IL
217-335-7043
Public
Bill Bainter
Carthage Golf Course
Carthage, IL
217-357-3625
Semi-Private
Cedar Crest Country Club
Quincy, IL
217-223-1210
Semi-Private
Skip Rudder
Deer Run Golf Course
Hamilton, IL
217-847-3623
Semi-Private
Deerwood Golf Club
New London, IA
319-367-5216
Semi-Private
Elks Fairview Golf Course
Keokuk, IA
319-524-1074
Private
Flint Hills Municipal Golf Course
Burlington, IA
319-752-2018
Public
Gibson Woods Golf Course
Monmouth, IL
309-734-9968
Public
Homer Fieldhouse
Gold Hills Golf Club
Colchester, IL
309-837-2930
Public
Great River Road Golf Club
Nauvoo, IL
217-453-2417
Public
Steve Sanders
Green Acres Country Club
Donnellson, IA
319-835-5011
Semi-Private
Hannibal Country Club
Hannibal, MO
573-221-0629
Private
Harry Mussatto Golf Course
Macomb, IL
309-298-3676
Public
Ken Killian & Dick Nugent
Hawthorne Ridge Golf Club
Aledo, IL
309-582-5641
Public
William J. Spear
Hend-Co Hills Golf Club
Biggsville, IL
309-627-2779
Public
Local Members
Indian Hills Golf Country Club
Wapello, IA
319-868-7747
Semi-Private
Indian Trails Golf Course
Camp Point, IL
217-593-6619
Public
Klingler & Associates
Jackson Park Golf Course
Palmyra, MO
573-769-3000
Public
Keokuk Country Club
Keokuk, IA
319-524-2002
Private
Lamoine Valley Golf Club
La Harpe, IL
217-659-3918
Public
Macomb Country Club
Macomb, IL
309-837-2132
Semi-Private
William J. Spear
Mount Pleasant Golf & Country Club
Mount Pleasant, IA
319-986-6157
Semi-Private
Norwoods Golf Club
Hannibal, MO
573-248-1998
Public
Scott & Scott
Quincy Country Club
Quincy, IL
217-222-1052
Private
River Valley Country Club
Canton, MO
573-288-3083
Semi-Private
Riverview Country Club
Keosauqua, IA
319-293-3200
Semi-Private
Leo Johnson
Scripps Park Golf Course
Rushville, IL
217-322-4444
Public
Shaw Creek Golf Course
Bushnell, IL
309-772-3422
Semi-Private
Local Members
Sheaffer Memorial Golf Park
Fort Madison, IA
319-528-6214
Public
C. D. Wagstaff
Spring Lake Country Club
Quincy, IL
217-222-5021
Private
Spring Lake Golf Course
Fort Madison, IA
319-372-9937
Public
Swan Creek Golf Club
Avon, IL
309-465-3127
Public
Three Pines Golf Course
Ewing, MO
573-494-3435
Public
Timber Ridge Golf Course
Memphis, MO
660-883-5341
Semi-Private
Tri-County Country Club
Augusta, IL
309-458-3226
Public
Scotty Glasgow
Twin Lakes of Kahoka
Kahoka, MO
660-727-3120
Public
William J. Spear
Twin Oaks Golf Club
Blandinsville, IL
309-652-9519
Public
Westview Golf Course
Quincy, IL
217-223-7499
Public
Scotty Glasgow

Custom Golf Package QuoteClick Here For A Free Golf Trip Quote
Golf Course Reviews
Midwest Golf Trail Contact Information
The web site you are accessing has experienced an unexpected error.
Please contact the website administrator.
The following information is meant for the website developer for debugging purposes.
Error Occurred While Processing Request
Error Executing Database Query.
Table 'golftrips_661.message1_illinoisgolf' doesn't exist
The error occurred in D:/vsites/GolfTripscom/root/html/_templates/include/adframesky.cfm: line 12
Called from D:/vsites/GolfTripscom/root/html/golfillinois/include/adframesky.cfm: line 3
Called from D:/vsites/GolfTripscom/root/html/_templates/golftrails/golftrail.cfm: line 930
Called from D:/vsites/GolfTripscom/root/html/golfillinois/maps/golftrail.cfm: line 1
Called from D:/vsites/GolfTripscom/root/html/_templates/include/adframesky.cfm: line 12
Called from D:/vsites/GolfTripscom/root/html/golfillinois/include/adframesky.cfm: line 3
Called from D:/vsites/GolfTripscom/root/html/_templates/golftrails/golftrail.cfm: line 930
Called from D:/vsites/GolfTripscom/root/html/golfillinois/maps/golftrail.cfm: line 1

10 : 	WHERE CourseLogo is not null
11 : 	and CourseLogo != ''
12 : 	AND message1_#application.message#.Active = 1
13 : 	ORDER BY RAND() 
14 : 	LIMIT 5

---
| | |
| --- | --- |
| SQLSTATE | 42S02 |
| DATASOURCE | GolfTrips_661 |
| VENDORERRORCODE | 1146 |
| SQL | SELECT id, IFNULL(CourseID,0) as CourseID, courseLogo, IFNULL(DestinationId,0) as DestinationId, IFNULL(GolfTrailID, 0) as GolfTrailID, IFNULL(TourOperatorID,0) as TourOperatorID, Destinations.LocalPage as DestinationLocalPage, Destinations.Page as DestinationPage, GolfTrails.LocalPage as GolfTrailLocalPage, IFNULL(CasinoId,0) as CasinoId FROM message1_illinoisgolf LEFT OUTER JOIN Destinations on Destinations.AreaID = DestinationId LEFT OUTER JOIN GolfTrails ON GolfTrails.TrailId = GolfTrailID WHERE CourseLogo is not null and CourseLogo != '' AND message1_illinoisgolf.Active = 1 ORDER BY RAND() LIMIT 5 |
Resources:
| | |
| --- | --- |
| Browser | CCBot/2.0 (https://commoncrawl.org/faq/) |
| Remote Address | 34.207.78.157 |
| Referrer | |
| Date/Time | 18-Jun-19 02:06 PM |
Stack Trace
at cfadframesky2ecfm2015073978.runPage(D:/vsites/GolfTripscom/root/html/_templates/include/adframesky.cfm:12) at cfadframesky2ecfm2088384905.runPage(D:/vsites/GolfTripscom/root/html/golfillinois/include/adframesky.cfm:3) at cfgolftrail2ecfm1122416006.runPage(D:/vsites/GolfTripscom/root/html/_templates/golftrails/golftrail.cfm:930) at cfgolftrail2ecfm1189851293.runPage(D:/vsites/GolfTripscom/root/html/golfillinois/maps/golftrail.cfm:1) at cfadframesky2ecfm2015073978.runPage(D:/vsites/GolfTripscom/root/html/_templates/include/adframesky.cfm:12) at cfadframesky2ecfm2088384905.runPage(D:/vsites/GolfTripscom/root/html/golfillinois/include/adframesky.cfm:3) at cfgolftrail2ecfm1122416006.runPage(D:/vsites/GolfTripscom/root/html/_templates/golftrails/golftrail.cfm:930) at cfgolftrail2ecfm1189851293.runPage(D:/vsites/GolfTripscom/root/html/golfillinois/maps/golftrail.cfm:1)


com.mysql.jdbc.exceptions.MySQLSyntaxErrorException: Table 'golftrips_661.message1_illinoisgolf' doesn't exist
	at com.mysql.jdbc.SQLError.createSQLException(SQLError.java:936)
	at com.mysql.jdbc.MysqlIO.checkErrorPacket(MysqlIO.java:2985)
	at com.mysql.jdbc.MysqlIO.sendCommand(MysqlIO.java:1631)
	at com.mysql.jdbc.MysqlIO.sqlQueryDirect(MysqlIO.java:1723)
	at com.mysql.jdbc.Connection.execSQL(Connection.java:3277)
	at com.mysql.jdbc.Connection.execSQL(Connection.java:3206)
	at com.mysql.jdbc.Statement.execute(Statement.java:727)
	at com.mysql.jdbc.Statement.execute(Statement.java:804)
	at coldfusion.server.j2ee.sql.JRunStatement.execute(JRunStatement.java:359)
	at coldfusion.sql.Executive.executeQuery(Executive.java:1485)
	at coldfusion.sql.Executive.executeQuery(Executive.java:1235)
	at coldfusion.sql.Executive.executeQuery(Executive.java:1165)
	at coldfusion.sql.SqlImpl.execute(SqlImpl.java:406)
	at coldfusion.tagext.sql.QueryTag.executeQuery(QueryTag.java:1187)
	at coldfusion.tagext.sql.QueryTag.startQueryExecution(QueryTag.java:816)
	at coldfusion.tagext.sql.QueryTag.doEndTag(QueryTag.java:769)
	at cfadframesky2ecfm2015073978.runPage(D:\vsites\GolfTripscom\root\html\_templates\include\adframesky.cfm:12)
	at coldfusion.runtime.CfJspPage.invoke(CfJspPage.java:247)
	at coldfusion.tagext.lang.IncludeTag.handlePageInvoke(IncludeTag.java:736)
	at coldfusion.tagext.lang.IncludeTag.doStartTag(IncludeTag.java:572)
	at coldfusion.runtime.CfJspPage._emptyTcfTag(CfJspPage.java:3011)
	at cfadframesky2ecfm2088384905.runPage(D:\vsites\GolfTripscom\root\html\golfillinois\include\adframesky.cfm:3)
	at coldfusion.runtime.CfJspPage.invoke(CfJspPage.java:247)
	at coldfusion.tagext.lang.IncludeTag.handlePageInvoke(IncludeTag.java:736)
	at coldfusion.tagext.lang.IncludeTag.doStartTag(IncludeTag.java:572)
	at coldfusion.runtime.CfJspPage._emptyTcfTag(CfJspPage.java:3011)
	at cfgolftrail2ecfm1122416006.runPage(D:\vsites\GolfTripscom\root\html\_templates\golftrails\golftrail.cfm:930)
	at coldfusion.runtime.CfJspPage.invoke(CfJspPage.java:247)
	at coldfusion.tagext.lang.IncludeTag.handlePageInvoke(IncludeTag.java:736)
	at coldfusion.tagext.lang.IncludeTag.doStartTag(IncludeTag.java:572)
	at coldfusion.runtime.CfJspPage._emptyTcfTag(CfJspPage.java:3011)
	at cfgolftrail2ecfm1189851293.runPage(D:\vsites\GolfTripscom\root\html\golfillinois\maps\golftrail.cfm:1)
	at coldfusion.runtime.CfJspPage.invoke(CfJspPage.java:247)
	at coldfusion.tagext.lang.IncludeTag.handlePageInvoke(IncludeTag.java:736)
	at coldfusion.tagext.lang.IncludeTag.doStartTag(IncludeTag.java:572)
	at coldfusion.filter.CfincludeFilter.invoke(CfincludeFilter.java:65)
	at coldfusion.filter.IpFilter.invoke(IpFilter.java:45)
	at coldfusion.filter.ApplicationFilter.invoke(ApplicationFilter.java:495)
	at coldfusion.filter.RequestMonitorFilter.invoke(RequestMonitorFilter.java:42)
	at coldfusion.filter.MonitoringFilter.invoke(MonitoringFilter.java:40)
	at coldfusion.filter.PathFilter.invoke(PathFilter.java:153)
	at coldfusion.filter.ExceptionFilter.invoke(ExceptionFilter.java:94)
	at coldfusion.filter.BrowserDebugFilter.invoke(BrowserDebugFilter.java:78)
	at coldfusion.filter.ClientScopePersistenceFilter.invoke(ClientScopePersistenceFilter.java:28)
	at coldfusion.filter.BrowserFilter.invoke(BrowserFilter.java:38)
	at coldfusion.filter.NoCacheFilter.invoke(NoCacheFilter.java:58)
	at coldfusion.filter.GlobalsFilter.invoke(GlobalsFilter.java:38)
	at coldfusion.filter.DatasourceFilter.invoke(DatasourceFilter.java:22)
	at coldfusion.filter.CachingFilter.invoke(CachingFilter.java:62)
	at coldfusion.CfmServlet.service(CfmServlet.java:219)
	at coldfusion.bootstrap.BootstrapServlet.service(BootstrapServlet.java:89)
	at org.apache.catalina.core.ApplicationFilterChain.internalDoFilter(ApplicationFilterChain.java:303)
	at org.apache.catalina.core.ApplicationFilterChain.doFilter(ApplicationFilterChain.java:208)
	at coldfusion.monitor.event.MonitoringServletFilter.doFilter(MonitoringServletFilter.java:42)
	at coldfusion.bootstrap.BootstrapFilter.doFilter(BootstrapFilter.java:46)
	at org.apache.catalina.core.ApplicationFilterChain.internalDoFilter(ApplicationFilterChain.java:241)
	at org.apache.catalina.core.ApplicationFilterChain.doFilter(ApplicationFilterChain.java:208)
	at org.apache.catalina.core.StandardWrapperValve.invoke(StandardWrapperValve.java:219)
	at org.apache.catalina.core.StandardContextValve.invoke(StandardContextValve.java:110)
	at org.apache.catalina.authenticator.AuthenticatorBase.invoke(AuthenticatorBase.java:494)
	at org.apache.catalina.core.StandardHostValve.invoke(StandardHostValve.java:169)
	at org.apache.catalina.valves.ErrorReportValve.invoke(ErrorReportValve.java:104)
	at org.apache.catalina.core.StandardEngineValve.invoke(StandardEngineValve.java:116)
	at org.apache.catalina.connector.CoyoteAdapter.service(CoyoteAdapter.java:458)
	at org.apache.coyote.ajp.AjpProcessor.process(AjpProcessor.java:196)
	at org.apache.coyote.AbstractProtocol$AbstractConnectionHandler.process(AbstractProtocol.java:637)
	at org.apache.tomcat.util.net.JIoEndpoint$SocketProcessor.run(JIoEndpoint.java:316)
	at java.util.concurrent.ThreadPoolExecutor.runWorker(ThreadPoolExecutor.java:1142)
	at java.util.concurrent.ThreadPoolExecutor$Worker.run(ThreadPoolExecutor.java:617)
	at org.apache.tomcat.util.threads.TaskThread$WrappingRunnable.run(TaskThread.java:61)
	at java.lang.Thread.run(Thread.java:745)